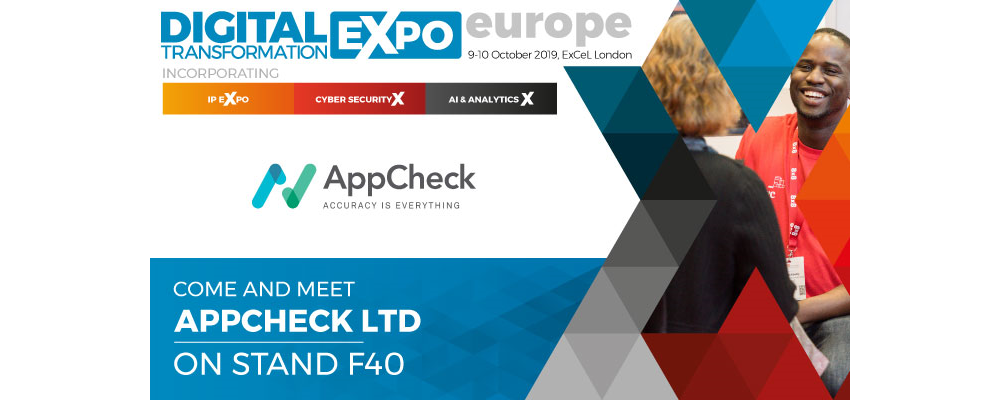 AppCheck at the IP Expo 2019
Events / Posted August 02, 2019
Digital Transformation Expo London, 9-10th October 2019
We are attending this year's Digital Transformation Expo down at ExCel London 9-10th October and hope to see you there. Not only do we have a stand located in the heart of the IT Security arena, where we'll be talking all things web application security, our Head of Research & Development will also be delivering a key talk in the Cyber Hack theatre where he'll be covering one of the most intriguing topics surrounding web application vulnerabilities.
What is the Digital Transformation Expo?
The Digital Transformation Expo is Europe's big event bringing IT leaders, security specialists and data specialists together under one roof for two days of learning, tech demos, training courses and showcases of next-generation products and solutions.
Boasting 16,000 attendees, 300+ speakers and 260 exhibitors this is looking to be a good show.
If you'd like to discover new solutions, boost your knowledge or simply meet and chat with like-minded people then this Expo is for you, so if you haven't already make sure you sign-up for free here. 
AppCheck Speaking Slot Details – Web App Security: URLs, Uploads and Dragons
Our Head of Research & Development, Nick Blundell, will be speaking at the Cyber Hack Theatre across both days so make sure you get this in your diaries to attend.
Full details below:
Wednesday 9th October 2019
Web App Security: URLs, Uploads and Dragons
12:00pm – 12:45pm – Cyber Hack Theatre
Thursday 10th October 2019
Web App Security: URLs, Uploads and Dragons
12:00pm – 12:45pm – Cyber Hack Theatre
Handling file uploads and processing URLs should be easy, right? Well, it turns out there are many things that can go wrong, in lots of different ways, and at many levels (e.g. an application, a framework, the web browser, a proxy server). We explore through example how assumptions and subtle mishandling of URLs and files can lead to various high severity OWASP top 10 vulnerabilities.
In this seminar we will build an understanding of these vulnerabilities that spares no detail whilst being accessible also at a non-technical level.
What you will take away from this session:
• Subtle dangers of the humble URL
• Why hackers gravitate towards File Upload features
• Exploitation of Server-side Request Forgery (SSRF) vulnerabilities
• How to avoid these dragons
What are we looking forward to?
Whilst the full list of talks is still to be announced we've had a look through and below are some talks that initially captured our interest. Looking forward to the full details being released in the next few days.
Keynote Speakers:
Garry Kasparov – Discussing the ethics in AI
Wednesday:
Securing The 2020 Threat Landscape
Coping with the Evolving Threat of Phishing: Risks and Opportunities
Secure Applications with Security Segmentation
Web App Security: URLs, Uploads and Dragons
Thursday:
Why Everyone with IT needs to understand Responsible Disclosure
Web App Security: URLs, Uploads and Dragons
Let us know what you are looking forward to the most.
Of course we are looking forward to chatting with delegates as they pass by our stand (#F40) and there will be plenty of other stands to visit across the expo (we know Graham, our Head of Development, has already marked on his map those taking part in the Octoberfest beer promotion).
All in all we think this is going to be a good show and one we are definitely looking forward to.
Have you signed up?
If you haven't already and you'd like to sign-up for free  then you can do so here.
Get started with Appcheck
No software to download or install.
Contact us or call us 0113 887 8380