Critical Joomla 3.7 SQL Injection Vulnerability Patched
Product / Security Alerts / Posted May 18, 2017
On the 17th of May 2017, the Joomla team issued a patch for a high severity security flaw that could allow a remote unauthenticated attacker to execute arbitrary SQL queries on the target system. A malicious attacker could exploit this flaw to read, create, modify and delete data stored within the database. It is also possible to gain administrator control of the Joomla CMS and execute PHP code on the affected server by exploiting this flaw.
Our security researchers observed scanning for this flaw against our honeypot systems within 24 hours of the initial disclosure, a common trend with popular CMS systems.
It is recommended that all Joomla installations should be updated immediately to version 3.6.4 or later.
https://developer.joomla.org/security-centre/692-20170501-core-sql-injection.htmll
AppCheck can be used now to scan your environment for the vulnerability. If you don't yet have an AppCheck account, use the Free Trial option to request an evaluation license.
Proof of Concept
AppCheck does not rely on signatures and therefore was able to detect this vulnerability from first principals. However, the affected URL is not normally accessed when using joomla or when crawling the application. Therefore our discovery engine has been updated to seed the affected URL whenever Joomla is detected.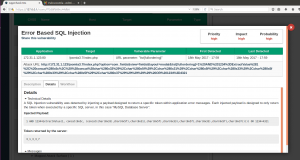 How can AppCheck help?
Read more on how AppCheck helps keep Joomla secure.
Get started with Appcheck
No software to download or install.
Contact us or call us 0113 887 8380