OUR SOFTWARE
The latest technology. Results you can trust.
Technology agnostic
Sophisticated scanning engine developed and maintained by leading security experts
Easy to use and highly configurable
Proof of concept evidence is provided through safe exploitation
Unparalleled support for modern HTML5 applications
Supports all forms of authentication via a scriptable browser interface
Granular scheduling and continuous scanning
Integration with popular bug tracking platforms such as JIRA
Custom integration via JSON API
Start your free trial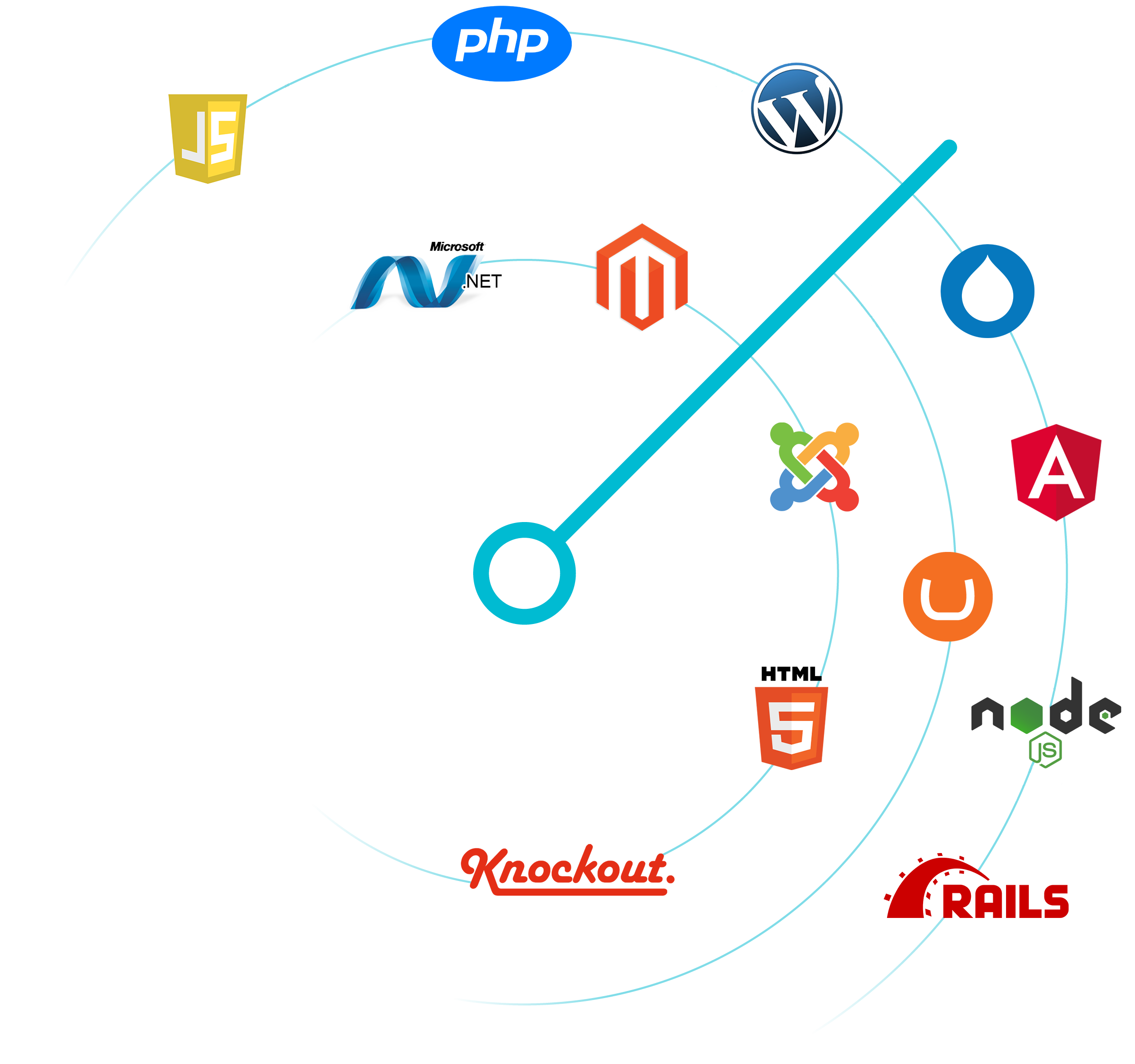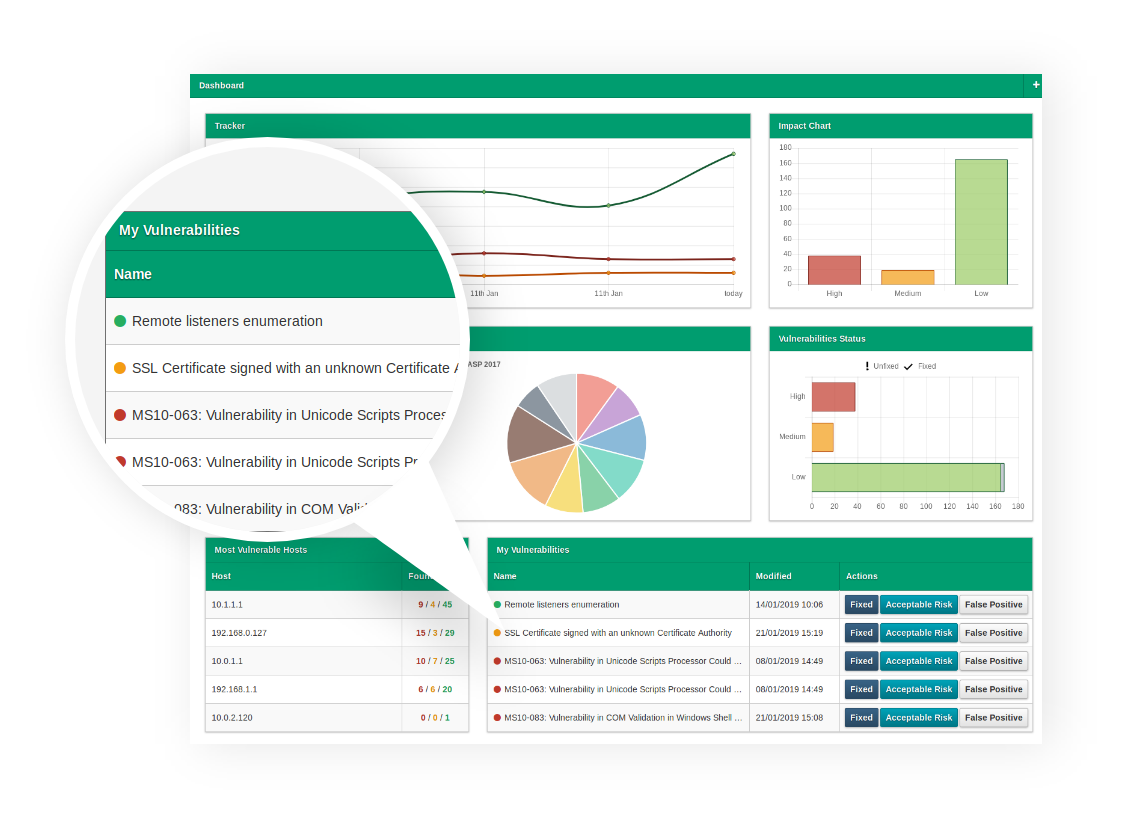 Features
Vulnerability management dashboard
The dashboard provides a customisable view of your security posture at any given moment in time. The status of discovered vulnerabilities, emerging threats and remediation progress are all displayed using easy to understand dashboard widgets.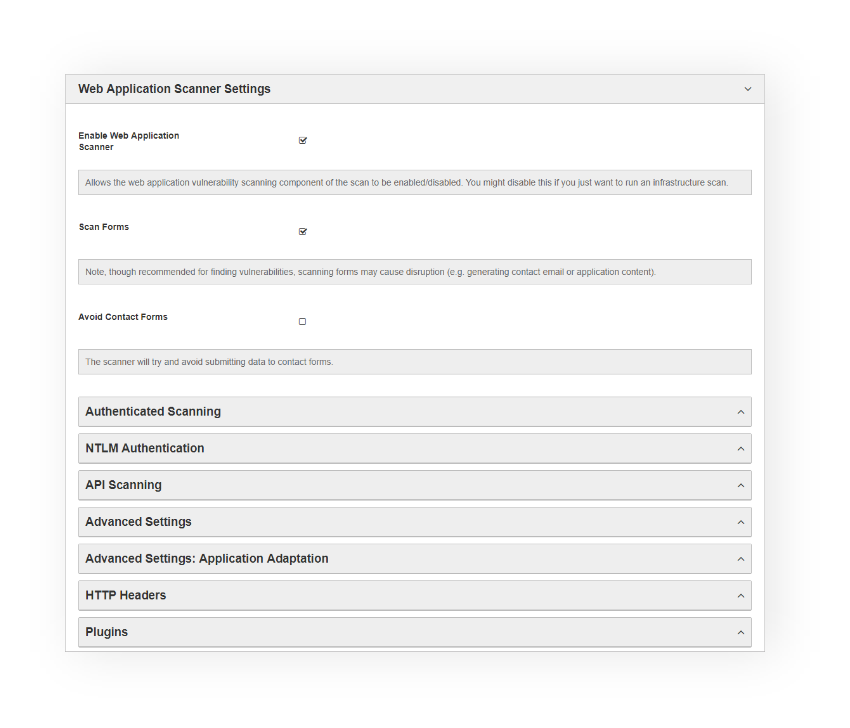 Features
Intuitive & flexible configuration
Whether you just want to run a quick scan or are a power user who needs ultimate control, AppCheck allows complete flexibility. Scans can be run in a few clicks using profiles built by our security experts or built from scratch using the profile editor.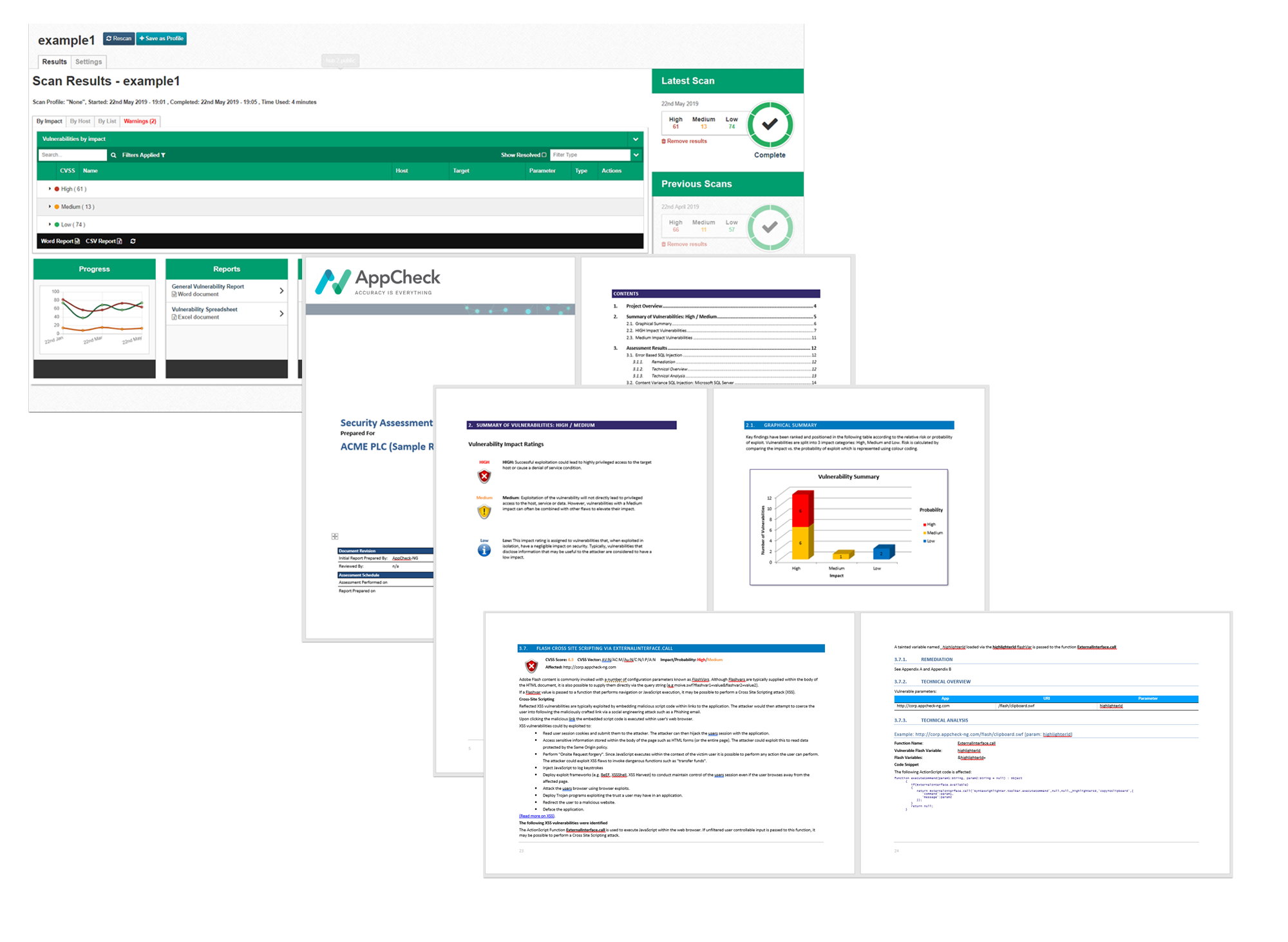 Features
One click reporting
Professional penetration testing style reports are generated with one click. Each report includes a high-level summary, a detailed technical narrative, proof of concept examples and comprehensive remediation steps for all findings.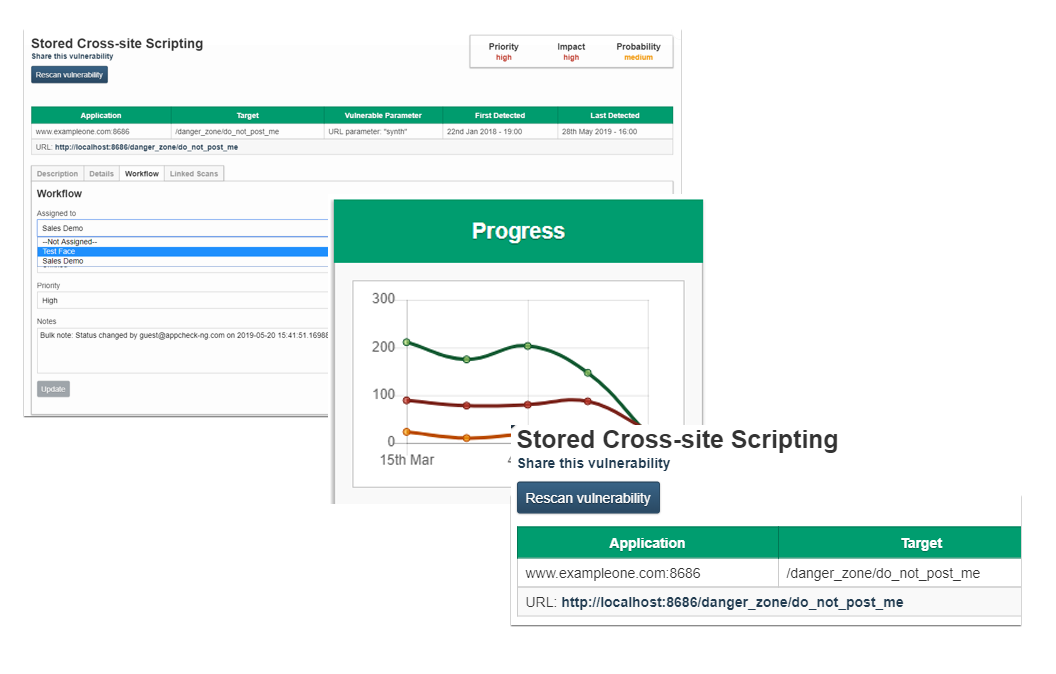 Features
Automatic vulnerability management
AppCheck includes a built-in workflow management system that allows individual findings to be assigned to a member of the team. Remediation progress can then be tracked visually through the main dashboard.
A rescan against each vulnerability can be performed with a single click to test the effectiveness of applied fixes. Scans can also be configured to automatically rescan when a vulnerability is marked as fixed.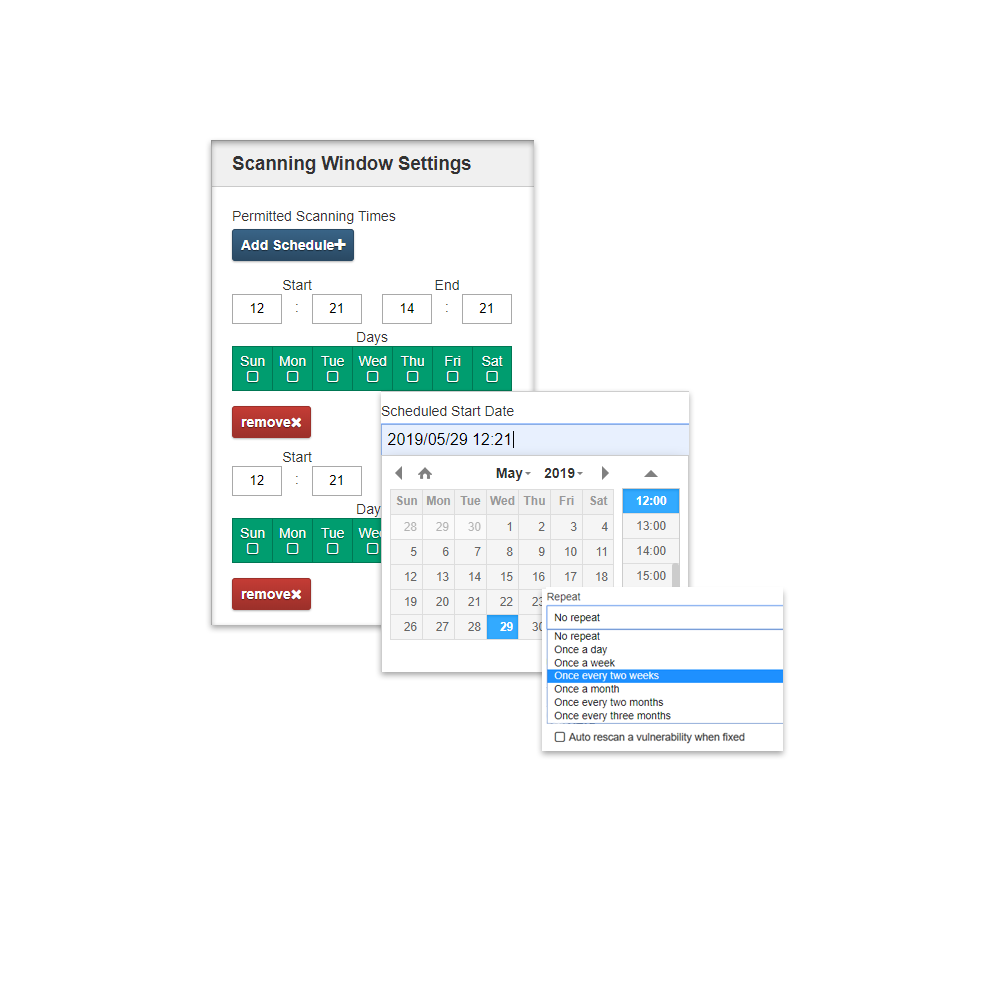 Features
Scheduling
Scans can be configured to adhere to a specific schedule to allow for testing out of hours or during specific testing windows. Each scan can be configured on a repeat cycle to ensure scans are run continuously to catch new vulnerabilities as soon as they are introduced.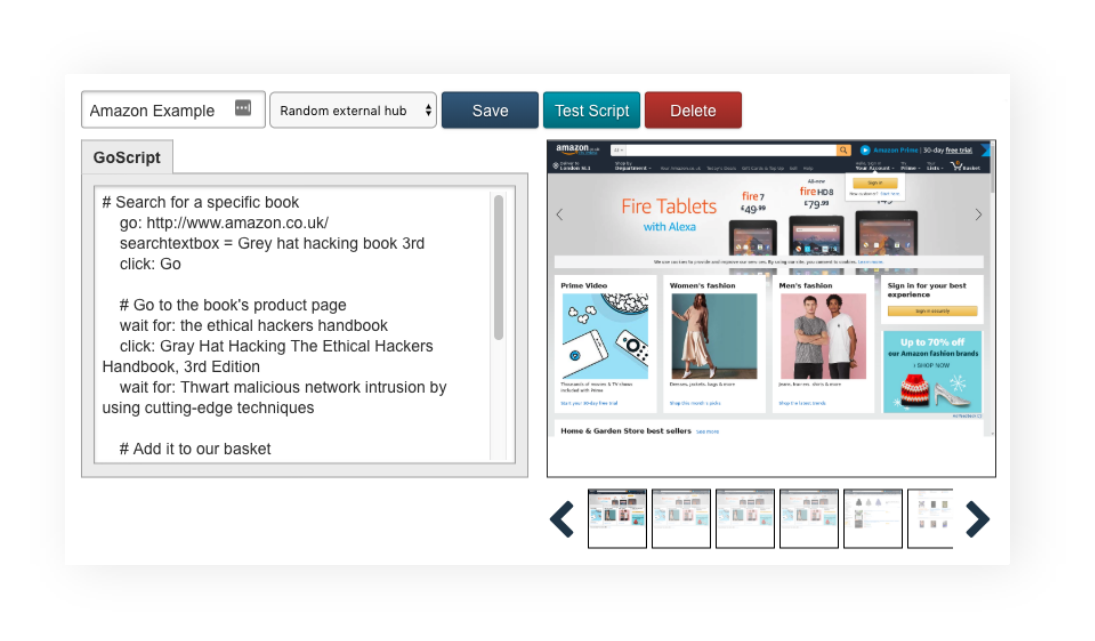 Features
GoScript
GoScript is a simple scripting language that defines application workflows, so that the scanner can flex key user journeys and can also be implemented to complete multi-stage authentication.
AppCheck at Frost and Sullivan
We tested multiple DAST solutions and AppCheck stood out as the tool to tick all of the boxes. We needed a scanner that allowed simple yet granular configuration, a dashboard that enabled multiple departments to manage any discovered vulnerabilities, would give us great vulnerability detection coverage and that came within our budget. AppCheck did this and more and their support team offer useful guidance on getting the best out of the tool, as well as keeping us updated with the latest threats and security news.
AppCheck at ESP Group
When we compared AppCheck against a team of manual penetration testers, AppCheck identified all of the same vulnerabilities, plus an additional three critical vulnerabilities and did so in under half the time. This demonstrated how advanced AppCheck was as a web application security scanner and how cost effective it is compared with manual testing. We see AppCheck being a long term tool in our security management system.
AppCheck at The Royal College of Emergency Medicine
We have worked with AppCheck for over 3 years and in that time we have found Appcheck personnel to be professional and knowledgeable. The system is very easy to use and penetration testing is decisive with results produced in a very precise format that is visibly and textually informative.
AppCheck at Cartrefi Cymuneol Gwynedd (Adra)
AppCheck has taken the stress out of penetration testing, gone are the weeks of liaising with vendors and honing scan profiles to produce a once a year report, regular automated scheduled scans means we can relax while AppCheck does the heavy lifting.
AppCheck at Saint Gobain
We are very pleased to have AppCheck as part of our toolkit and it plays a key role in securing our 90+ websites. It has become a fundamental part of our website deployment process, with all new releases being scanned prior to going live which has enabled us to identify zero day vulnerabilities and delay releases until they have been resolved. AppCheck is very easy to use, with the reports generated being very easy to read and interpret, enabling us to be able to forward vulnerabilities on to our various development teams and partners for a swift resolution. The best thing is that I know we have only scratched the surface in terms of AppCheck's capabilities, yet already it has proved to be a valuable addition so hopefully we can continue to get more out of the platform.
AppCheck at Queens University Belfast
The main benefit of Appcheck for us is the speed with which we can spin up a test. The application compares well with manual testing and indeed has found significant vulnerabilities on a number of occasions. The reports are well structured and ready for presentation to senior management with minimal editing.
AppCheck at East Ayrshire Council
We use AppCheck as part of our security strategy, due to its ease of use and clear and concise reporting functions. Compared to manual pen-testing we find AppCheck much easier and more cost effective and feel confident vulnerabilities are being picked up all year round. Their support team are always on hand for any queries we may have. I would definitely recommend AppCheck if you're looking for a market leading solution that covers all bases.
AppCheck at Leeds Credit Union
Leeds Credit Union have been using AppCheck's services for some time now and we have found their staff to be friendly and very helpful in getting the product to do exactly what we want. The process is quite straight forward and the staff at AppCheck are always eager to answer any questions we may have. We have tried other products that have been way more expensive as well as onsite penetration testing but found that AppCheck easily beat them both in terms of costs, depth of coverage and the ability to re-test at no extra cost when any vulnerabilities are resolved. We would have absolutely no problem in recommending them to any company.
AppCheck at University of Derby
In short the AppCheck penetration security tool has eased our security woes considerably and made us into happy people! We trust the beautiful reports it produces which are comprehensive yet concise, which enables us to prioritise and actioning the identified vulnerabilities is a breeze. The impressive penetration solution is cloud-hosted offering zero-day protection, and is easy to use with a good user-friendly interface. The support, when required, have all been knowledgeable, professional and resolve calls in a timely manner. You can probably tell we like AppCheck!
AppCheck at BVG Group
Appcheck is an essential part of our security planning. Simple to use and easy to get started, but scratch the surface and the depth of the service quickly becomes apparent. After using the product for a number of years, I don't think I'd be comfortable without it. The results are very accurate even when compared to manual penetration testing. The team are fantastic, always available and listen to requirements and suggestions. Penetration testing is no longer the headache it was and I'm definitely sleeping easier at night!
AppCheck at The Health Informatics Service
We needed an all-encompassing testing solution providing maximum coverage across our services. AppCheck's ability to schedule assessments has enabled us to run regular repeated scans giving us peace of mind that our Infrastructure is secure and our patient data is not compromised, with the benefit of rapid remediation and re-testing. One click reporting means we can instantly provide clear and concise information on our security posture in an easy to read format which is able to be digested by all departments and stakeholders across multiple services within both our own organisation and our customer base. The support offered is second to none, not that this is needed often. The platform is so easy to use and once potential vulnerabilities are found the simple remediation advice means we can resolve them quickly. We took the time to review multiple platforms and found AppCheck to be the most cost-effective, especially when compared to the potential fines now in place for data breaches. In short, AppCheck enables us to take a pro-active approach to security testing and gives us the comfort in knowing our systems are being constantly monitored.
AppCheck at Cantarus Digital Agency
I highly recommend this for anyone not currently using automated vulnerability scanning – or is not confident they're using a best-in-class solution as part of their strategy.