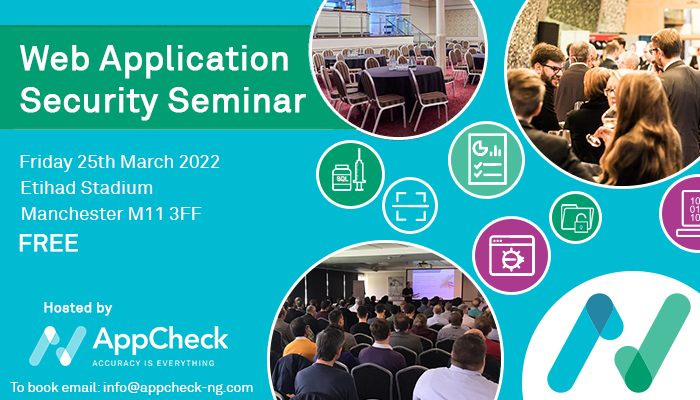 Web Application Security Seminar - Manchester 25th March
Events / Posted February 07, 2022
A Practical View of the Most Common Threats Facing Web Apps Today
10am-4pm, Friday 25th March 2022
Manchester Etihad Stadium 
9:15am – Registration
10:00am – Start
11:00am – Morning Refreshment
1:00pm – Lunch
3:00pm – Afternoon Refreshments
4:00pm – Finish
The Web Application Security seminar is a free event that presents a detailed analysis of the most common threats facing web applications today. We will review high profile examples and provide a technical breakdown of critical security flaws along with an introduction into emerging technologies.
Each delegate will receive a copy of the slides and exclusive tools and exploit code used in the live hacking demonstrations.
Course Overview
Insecure web applications are among the greatest security threats to organisations today. To counter these threats AppCheck will host a web application security seminar to dissect these threats in detail and discuss how they impact organisations.
AppCheck carries out web application vulnerability scans for some of the UK's leading organisations, uncovering a range of recurring, high risk vulnerabilities. This seminar presents a summary of our most recent findings, including live demonstrations of hacking techniques, and most importantly, best practice and remediation activities.
Key Benefits
Learn to protect your Web Applications from vulnerabilities that pose the greatest threat to organisations
Gain an understanding of trends and changes in the threat landscape
Confirmation of best practice and contemporary considerations
Attain the skills required to test against the OWASP Top Ten
Enjoy live hacking demonstrations
Opportunity for detailed Q&A with one of the UK's leading pen testers, cyber researcher, and security innovator
Insight into AppCheck's market leading technology
Free Securing Web Applications Tool Kit
Free use of the AppChe­ck Web Application and Infrastructure Scanner
Previous seminar attendee comments:
"I thoroughly enjoyed my day with AppCheck; the live hacking was a real eye opener. It showed how online tools are readily available for hackers to use, which has led me to take preventative steps to ensure this doesn't happen to our network. Overall an informative day which I would actively recommend to others… "
"Crammed a lot of content into a short time with practical and relatable real-world examples and testing methods"
"A fantastic and revealing insight into the world of hacking"
Get started with Appcheck
No software to download or install.
Contact us or call us 0113 887 8380