Reflecting on AppCheck: Chris McGreavy
News / Posted September 10, 2021
We have taken on lots of new starters at AppCheck across all departments as we continue to enjoy a period of expansion. We sit down with Chris McGreavy, our Service Delivery Lead, and ask him how his first few months with AppCheck have gone.
What is your role at AppCheck?
My job at AppCheck is Service Delivery Lead, and I'm responsible for our growing IT Service capabilities. Service Delivery can mean different things to different organisations, but the core of the role tends to remain the same; my job is to make sure that the quality of service & support we provide to our customers is consistently high, and that the lights stay on.
Tell us about yourself outside of work:
My time outside of work is spent with my family. Certainly over the past 18 months a lot of time has been spent doing DIY and all the house jobs I'd been putting off. Aside from that, I'll either be spending the afternoon in Leeds or York, walking the dog or at the local gym. If I ever get a spare 30 minutes, it's likely spent on my PlayStation.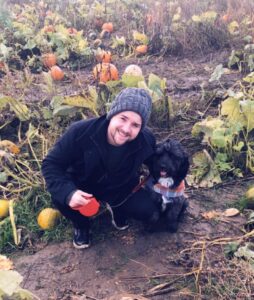 What initially attracted you to AppCheck?
From my first conversation with our internal recruiter, I knew that I'd have a great opportunity to help shape a small part of AppCheck's future. Appcheck are a growing company with huge potential for the future, and I was excited to be a part of that journey.
How were your first months?
The first few months have absolutely flown by! I've enjoyed every moment of it so far, and I'm excited about what the future holds!
What has been the best part about joining AppCheck so far?
It would usually be cliché to say the people, but AppCheck is home to a genuinely great bunch of people which has made it very easy for me to settle into a new role in a new company. I've only met people virtually so far, so I'm looking forward to meeting my colleagues face to face in the near future and take over as the reigning office Mario Kart champion!
What does the future hold for you at AppCheck?
Over the next year, my focus is on improving the already great service and support we provide to our customers, making sure we can deliver that service at scale, and driving best-practice across our behind-the-scenes functions. After that, given my role at AppCheck is entirely new, I've got a great opportunity to really shape my own future here!
What would you say to someone else looking to join AppCheck?
We've got some great roles already advertised, and several more in the pipeline for the coming months. If you're looking for a new challenge in a growing company, you won't regret it!
Get started with Appcheck
No software to download or install.
Contact us or call us 0113 887 8380