Reflecting on AppCheck - Dylan Marriott
News / Posted November 04, 2021
We have taken on lots of new starters at AppCheck across all departments as we continue to enjoy a period of expansion. We sit down with Dylan Marriott, our Application Support Engineer, and ask him how his first few months with AppCheck have gone.
What is your role at AppCheck?
My role at AppCheck is an Application Support Engineer, I am one of the people responsible for assisting customers with any technical queries regarding our product and using my knowledge to help them get the best out of our software; and helping them understand what sort of attack vectors the scanner can exploit.
Tell us a bit about yourself outside of work
Most of my spare time is spent with my other half. I do also enjoy playing a collection of games with my friends online and practicing conscientiousness which usually includes reading books, going to the gym, or studying new languages & technologies.
What initially attracted you to AppCheck?
Since an early age I have been interested in cyber-security and just the technology surrounding that field in general. I was pleased to have a call from Richard who is the internal recruiter, and I knew straight away that an opportunity to work here was perfect for me and my career as I was looking for a new challenge.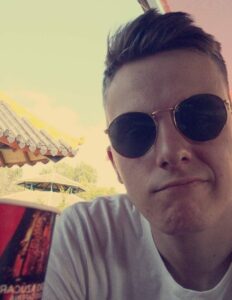 How were your first months?
I am most definitely delving into the subjects that interested me since I was a kid, and there is plenty of challenges here you can take on if you want to grow and learn more. I was with my previous employer for most of my career and I am so glad I made this decision for me.
What has been the best part about joining AppCheck so far?
I have always believed that you should surround yourself with smarter people, and there is no shortage of genius at AppCheck, there is a lot of talented people to learn from and everyone is so kind and welcoming you definitely make friends and not just colleagues here. I have only met a few of the people here in person so far and the rest virtually, but I am incredibly eager to see everyone's faces at the next social event!
What does the future hold for you at AppCheck?
There is no telling currently, and I mean that in a good way! There is so many different avenues to go down that interest me and loads of subjects I could learn and grow into, so I don't want to speak too soon as I am spoilt with choice.
What would you say to someone else looking to join AppCheck?
As mentioned previously, I was in a role at another company for most of my career so becoming a part of a different family felt daunting because I was so comfortable but I am so relieved I made that decision, sometimes the grass is greener on the other side!
Want to come and work for us?
Get started with Appcheck
No software to download or install.
Contact us or call us 0113 887 8380